What are GeoTextiles & GeoSynthetics?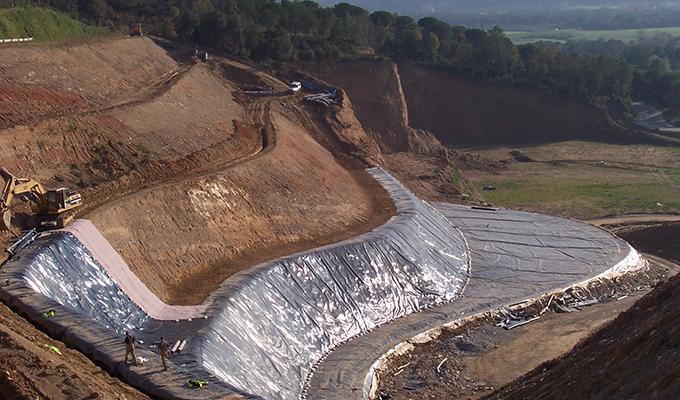 GeoTextiles in Civil Engineering
In only a very few years, geosynthetics (geotextiles, geogrids, and geomembranes) have joined the list of traditional civil engineering construction materials. Often the use of a geosynthetic can significantly increase the safety factor, improve performance, and reduce costs in comparison with conventional construction alternatives.
In the case of embankments on extremely soft foundations, geosynthetics can permit construction to take place at sites where conventional construction alternatives would be either impossible or prohibitively expensive. There are a number of geotextile related materials, such as webs, mats, nets, grids, and sheets, which may be made of plastic, metal, bamboo, or wood, but so far there is no ASTM (American Society for Testing and Materials) definition for these materials. They are "geotextile-related" because they are used in a similar manner, especially in reinforcement and stabilization situations, to geotextiles.
Since 70s the geo-textiles have received a boost in their uses, consumption and their market value. Today more than 400 materials as geo synthetics are available.
Definition of GeoTextiles
A Geo-textile is a synthetic, permeable textile material used with soil, rock, or any other geotechnical engineering related material. It is used in high-standard all season roads and also in low standard logging roads. A biodegradable woven jute geo-textile is used for temporary road construction in water-logged areas.
Filtration, Drainage, and Erosion Control
One of the most important uses for geotextiles is as a filter in drainage and erosion control applications. Drainage examples include trench and French drains, interceptor drains, blanket drains, pavement edge drains, and structural drains, to name just a few.
Permanent erosion control applications include coastal and lakeshore revetments, stream and canal banks, cut and fill slope protection, and scour protection. In all these applications, geotextiles are used to replace graded granular filters used in conjunction with the drainage aggregate, perforated pipe, rip rap, and so on.
When properly designed, geotextiles can provide comparable performance at less cost, provide consistent filtration characteristics, and they are easier and therefore cheaper to install. Although erosion control technically does not improve the soil, prevention of both external and internal erosion in residual and structured soils is an important design consideration.
Geotextiles can also be used to temporarily control and minimize erosion or transport of sediment from unprotected construction sites. In some cases, geotextiles provide temporary protection after seeding and mulching but before vegetative ground cover can be established. Geotextiles may also be used as armor materials in diversion ditches and at the ends of Culvert to prevent erosion.
Probably the most common application is for silt fences, which are a substitute for hay bales or brush piles, to remove suspended particles from sediment-laden runoff water. Filtration Design Concepts For a geotextile to satisfactorily replace a graded granular filter, it must perform the same functions as a graded granular filter:
Prevent soil particles from going into suspension;
Allow soil particles already in suspension to pass the filter (to prevent clogging or blinding); and
Have a sufficiently high permeability and flow rate so that no back pressure develops in the soil being protected.
After a detailed study of research carried out here and in Europe on both conventional and geotextile filters developed a widely used design procedure for geotextile filters for drainage and permanent erosion-control applications. The level of design required depends on the critical nature of the project and the severity of the hydraulic and soil conditions. Especially for critical projects, consideration of the risks involved and the consequences of possible failure of the geotextile filter require great care in selecting the appropriate geotextile.
For such projects and for severe hydraulic conditions, very conservative designs are recommended. As the cost of the geotextile is usually a minor part of the total project or system cost, geotextile selection should not be based on the lowest material cost. Also, expenses should not be reduced by eliminating laboratory soil–geotextile performance testing when such testing is recommended by the design procedure.