Functions of Slab and Design of Slab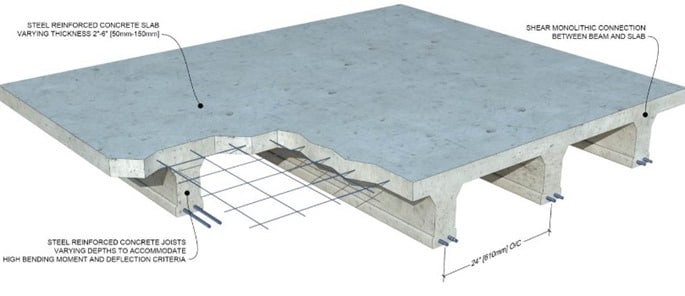 A flat piece of concrete, put on the walls or columns of a structure. It serves as a walking surface but may also serve as a load bearing member, as in slab homes.
Functions of Concrete
Provide a flat surface
To support load
Sound, heat and fire insulator
Act as a divider (privacy) for the occupants
Upper slab became the ceiling for the storey below
Space between slab and ceiling can be used to place building facilities - Floors
Design Considerations in Slab:
Locate position of wall to maximize the structural stiffness for lateral loads
Facilitates the rigidity to be located to the center of building
Its necessary to check the slab deflection for all load cases both for short and long term basis. In general, under full service load, Deflection (d) < L/250 or 40 mm whichever is smaller.
Its preferable to perform crack width calculations based on spacing of reinforcement.
Good detailing of reinforcement will Restrict the crack width to within acceptable tolerances as specified in the codes and Reduce future maintenance cost of the building
Take care of punching shear i.e use more steel or thickness of concrete where there is chance of punching shear in the concrete slab. To increase shear capacity at the edges of walls and columns embed shear studs or stirrup cages in the slab.
Check for lateral stability
Methods of Design of Slab
The finite element analysis
The simplified method
The equivalent frame method
Design and Analysis of Slab in SAP2000
Let us know in the comments what you think about the concepts in this article!