Comparison of Coarse-Grained and Fine-Grained Soils for Engineering Use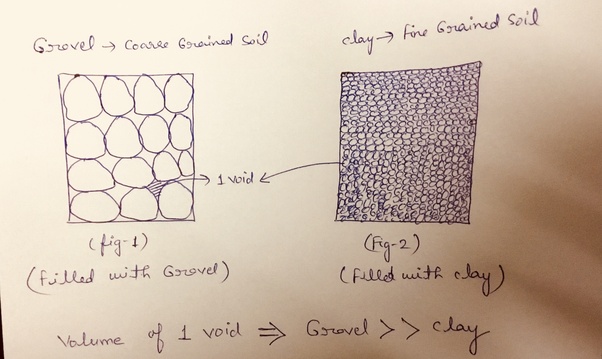 The main groups of soils for engineering purposes are coarse-grained soils — sand and gravels — and fine-grained soils — silts and clays. It is important to know the differences between fine-grained and coarse-grained soils so that to make a decision related to soil composition and particle sizes.
The physical and mechanical (load) responses of fine-grained and coarse-grained soils are different. A geotechnical engineer has to understand these differences to select soils for construction purposes and to design safe and stable foundations (support systems) for structures that are to be supported on and within soils. Coarse-grained and fine-grained soils have different engineering properties. Moisture content changes strongly influences the behavior of fine-grained soils but does not significantly influence the behavior of coarse-grained soils under static loading.
Coarse-Grained Soil for Engineering Use
Good load-bearing capacities
Good drainage qualities but reduced by fines content as low as 5%
Coarse-grained soils with angular particles have higher strength (shearing resistance), higher compressibility and lower density than coarse-grained soils with rounded particles.
Practically incompressible when dense
Engineering properties of coarse-grained soils are controlled by

Grain size of the particles
Structural arrangement of particles

Significant volume changes can occur when they are loose
Vibrations accentuate volume changes in loose coarse-grained soils
When coarse-grained soils (essentially sands) are below groundwater and vibrated such as in an earthquake they can become like a viscous fluid and cause instability and failure of structures on and within them
Fine-Grained Soil for Engineering Use
Poor load-bearing capacities compared with coarse-grained soils
Poor drainage qualities
Homogeneous clays are practically impervious
Engineering properties of coarse-grained soils are controlled by

Mineralogy
Geological conditions (e.g. layering)
Particle size is sufficient to identify coarse-grained soils. Fine-grained soils require mineralogical characterization in addition to particle size for identification. Particle size distribution is represented on a semi logarithmic plot of % finer (ordinate, arithmetic scale) versus particle size (abscissa, logarithm scale).
The particle size distribution plot is used to delineate the different soil textures (percentages of gravel, sand, silt, and clay) in a soil. The effective size, D10, is the diameter of the particles of which 10% of the soil is finer. D10 is an important value in regulating flow through soils and can significantly influence the mechanical behavior of soils.
Coarse Grained Vs Fine-Grained Soil Video