Structural & Non Structural Defects in Building Construction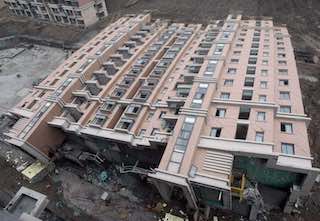 Concrete is very versatile material. It can be cast in place with or without reinforcement. It can also be precast or prestressed in order to achieve the required strength. In order to achieve the required strength there is the need of proper understanding of its behavior and constituents that are making the concrete. Any type of negligence in any of its phase like placement, design & maintenance can lead towards its deterioration and finally it will not be able to perform its intended functions. Some of the factors that can cause the deterioration of concrete are:
Accidental loading
Chemical reaction like sulfate attack, alkali carbonate reactions, alkali silica reactions etc
Erosion
Freezing and Thawing
Settlement
Fire and weathering
Defects in Building Design:
Inadequate structural design means that concrete is exposed to flexural and shearing stresses that are greater than its design strength. All that leads towards spalling and cracking of concrete. Any abrupt change in cross section of any member can cause the increase in stress concentration in that member which will be ultimately resulted into cracking of concrete. Deflection is one of the major parts in structural design. If there is any problem in its consideration during design, that can lead towards the cracking of concrete. Inadequate provision of drainage and expansion joints during the design also becomes the cause of deterioration and spalling of concrete.
Defects During Construction:
Defects during building construction can range from improper mixing, placing and curing of concrete. Removal of shoring & formwork is another cause of production of cracks in concrete. If additional water is added in concrete in order to increase the workability of concrete, it increases the water cement ratio that leads towards the strength reduction. Improper alignment of formwork causes erosion of concrete.
Structural Defects in Building Construction:
Structural defects in buildings can be categorized as:
Cracks in foundation (substructure)
Cracks in floors and slabs (superstructure)
Cracks in Walls (superstructure)
These building defects can be caused by following factors:
Improper soil analysis
Improper site selection
Use of defective materials
Substandard work
Most of the structural problems can be avoided by proper design and planning.
Non Structural Defects in Building Construction:
Non structural defects include:
Defects in brick work
Dampness in old structures
Defects in plaster works
It can be concluded that design and construction defects at the least can cause minor cracking or spalling leading to concrete deterioration and may become a source of a major structural failure. Therefore a great deal of attention and care is required in designing, detailing and construction of concrete structure.