Resource Planning and Cost Management Techniques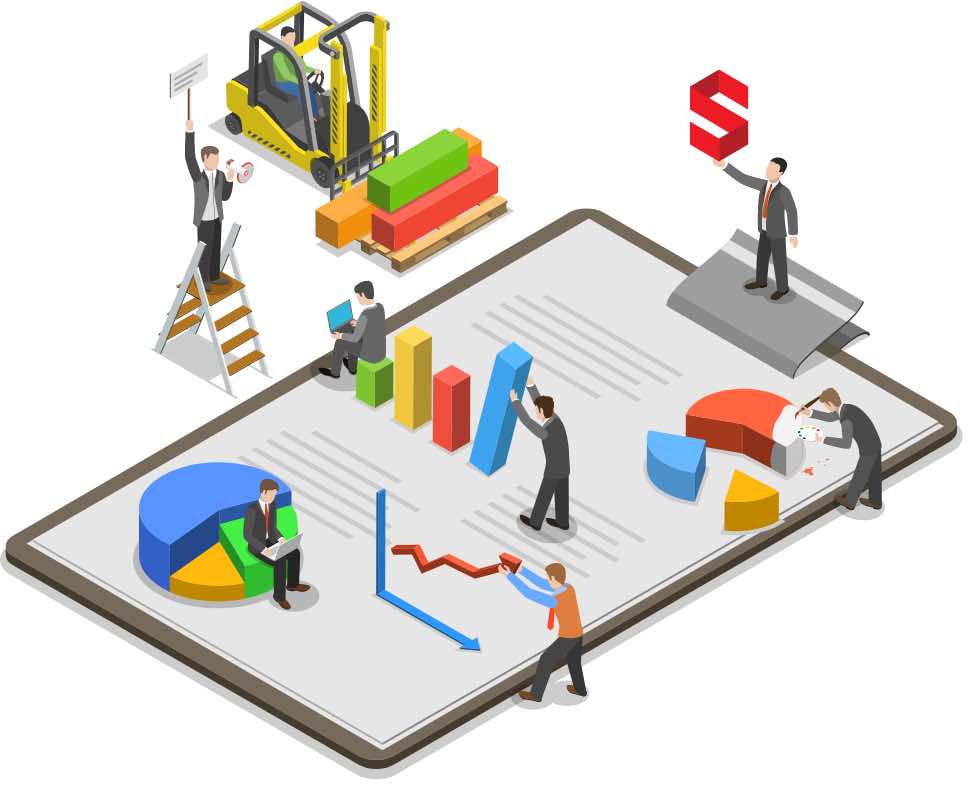 Project Control
Cost control
Cash Flow Analysis
Schedule Control
Material Management
Cost Control
Possible corrective actions could include:
Adding additional trade workers or crews
Adding or removing equipment
Working overtime
Bringing in additional subcontractors
Making the job more efficient
Eliminating factors that cause subcontractors to interfere with each other
Productivity
Let R = Production rate
Where:
T is total time, Q is the total quantity to be installed
The total cost is determined by the equation:
Ct = Ch  T
Where
Ct = total cost and Ch = cost per hour, or
Ct = Ch  (Q/R)
Cash Flow Analysis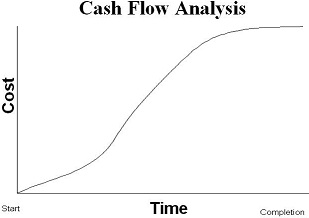 Front Loaded Cost Curve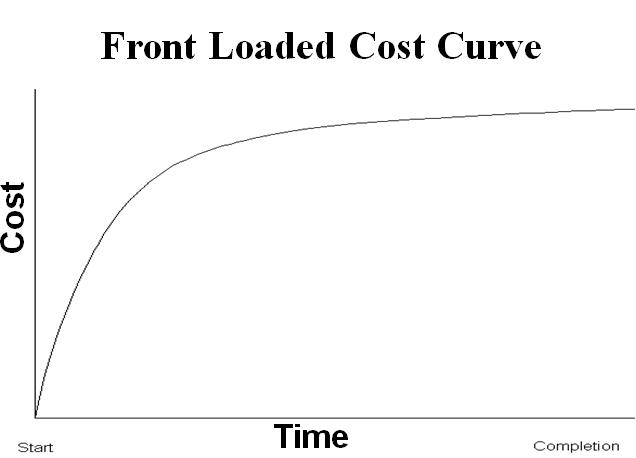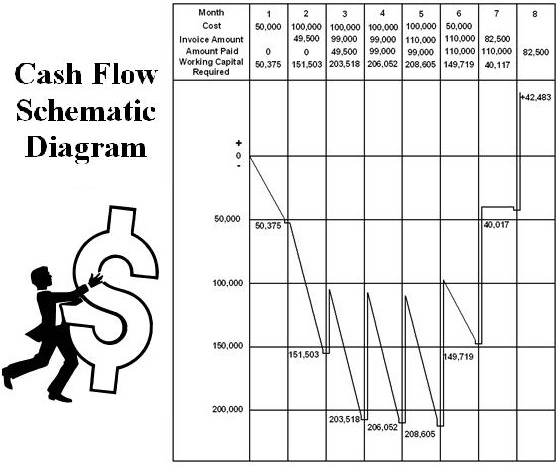 COST MANAGEMENT
Includes processes required to ensure that the project is completed within the approved budget.
Processes involved are:
Resource Planning
Cost Estimating (Also See: Bar Bending Schedule)
Cost Budgeting
Cost Control
Resource Planning
Involves determining what physical resources (people, equipment, materials etc) and what quantities of each should be used to perform project activities.
Inputs to Resource Planning
Work Breakdown Structure:

 A deliverable-oriented grouping of project elements that organizes and defines the total scope of the project. It Identifies the project elements that will need resources.

Historical Information

Scope Statement:
  Contains the project justification and the   project objectives.
Resource Pool Description:
  Knowledge of what resources are   potentially available.
Organizational Policies:
  The policies of the performing organization   regarding staffing and the rental or   purchase of supplies and equipment.
Tools and Techniques to Resource Planning

Expert Judgment
Alternative identifications:

To adopt different approaches for the same problem.
Outputs from Resource Planning

Resource Requirements:
Description of what types of resources are required and in what quantities for each element of the work break down structure.
Cost Estimating
Developing an approximation (estimates) of the costs of the resources needed to complete project activities.
Includes identifying and considering various costing alternatives.
Cost Estimating and Pricing
Cost Estimating involves developing an assessment of the likely quantitative result-how much will it cost the performing organization to provide the product or service involved.
Pricing is a business decision-how much will the performing organization charge for the product or service
Inputs to Cost Estimating
Work Breakdown Structure
Resource Requirement
Resource Rates:

scheduled or non-scheduled

Activity Duration Estimates
Historical Information
Chart of Accounts:
Describes the coding structure used by the performing organization to report financial information in its general ledger.
Tools and Techniques for Cost Estimating

Analogous Estimating / Top-down Estimating:
Using the actual cost of a previous, similar project as the basis for estimating the cost of the current project. It is less costly but less accurate. (Rough-cost Estimate)
Parametric Modeling:
Using project characteristics (parameters) in a mathematical model to predict project costs.
Bottom-up Estimating:
Estimating the cost of individual work items, then summarizing or rolling up the individual estimates to get a project title. (Detailed Estimate)
Computerized Tools:
Use of computerized tools such as project management software and spreadsheets to assist with cost estimating.
Outputs from Cost Estimating
Cost Estimates
Supporting Details like Scope of work, Calculation sheet, Assumptions made, Possible range of results, etc.
Cost Management Plan describing how cost variances will be managed.
Cost Budgeting
Allocation of overall cost estimates to individual work items in order to establish a cost baseline for measuring project performances.
Inputs to Cost Budgeting
Cost Estimates
Work Breakdown Structure
Project Schedule
Tools and Techniques for Cost Budgeting

Tools and Techniques for developing project Cost Estimates are used to develop budgets for work items as well

Outputs from Cost Budgeting

Cost Baseline

A time-phased budget that will be used to measure and monitor cost performance on the project. It is developed by summing estimated costs by period and is usually displayed in the form of an S- curve.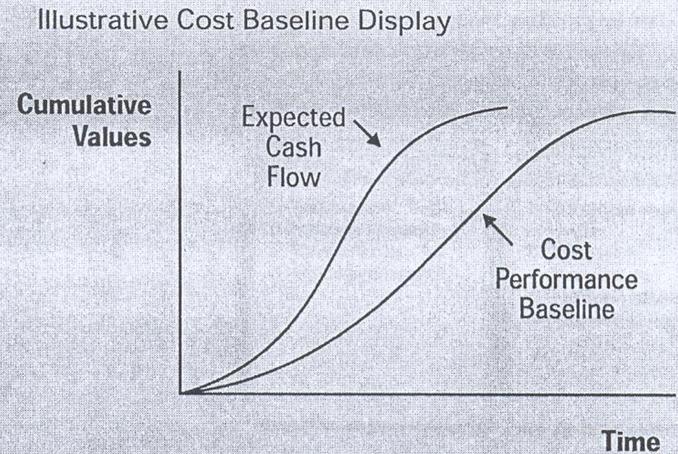 Cost Control
Cost Control is concerned with
Influencing the factors which create changes to the cost baseline to ensure that changes are beneficial.
Determining that the cost baseline has changed
Managing the actual changes when and as they occur
Cost Control includes:
Monitoring cost performances to detect variances from plan.
Ensuring that all appropriate changes are recorded accurately in the cost baseline
Preventing incorrect, inappropriate, or unauthorized changes from being included in the cost baseline.
Informing appropriate stakeholders of authorized changes.
Inputs to Cost Control
Cost Baseline
Performance Reports

Provide information about cost performance such as which budgets have been met and which have not. It also alerts the project team to issues which may cause Problems in the future.

Change Requests

These may occur in many forms-oral or written, direct or indirect, externally or internally initiated, and legally mandated or optional. These may require increasing the budget or may allow decreasing it.
Tools and Techniques for Cost Control
Cost Change Control System
It defines the procedures by which the cost baseline may be changed. It includes the paperwork, tracking systems, and approval levels necessary for authorizing changes.
Performance Measurement
It helps to assess the magnitude of any variations which do occur.
Additional Planning

Perspective changes may require new or revised cost estimates or analysis of alternate approaches.

Computerized Tools
Outputs from Cost Control
Revised Cost Estimates
Budget Updates
Corrective Action
Estimate at Completion

It is a forecast of total project costs based on project performance.

Lessons Learned
OBJECTS OF COST CONTROL
To have a knowledge of the profit and loss of the project throughout the duration of the project.
PROJECT PROFITS
Client payments.
Sale of surplus or scrap material and plant
Payments for plants or labor by others, where, this plant or labor is , from time to time not required for the project.
PROJECT LOSSES
Labor and site office costs
Plant costs
Site overheads i.e. site facilities, access roads and office etc
Cost of tendering including bonds, insurance, etc.
Material costs.
Head office overheads proportioned over all current projects.
To have a comparison between the actual project performance and that conceived in the original project plan.
Comparison is basically done according to the following bases:
According to units of production
According to line items; e.g., labour, material, equipment, overheads, ---
Provides feedback data on actual project performance to future project planning.