Steel Structures used in Hydropower Projects
All the hydraulic structures have been optimized considering the sediment load, suspended particle size and reduction in head race pipe diameter. Following are the some of the most common types of Hydraulic steel structures used in:
Hydropower Projects
Trashracks
Stoplogs
Gates
Trashracks
Trash racks and safety grates are a critical element of outlet structure design and serve several important functions. When properly designed, installed, and maintained trash racks.
Keep debris away from the entrance to the outlet works where the debris will not clog the critical portions of the structure;
Capture debris in such a way that relatively easy removal is possible;
Ensure that people and large animals are kept out of confined conveyance and outlet areas; and, provide a safety system that prevents humans and animals from being drawn into the outletand allows them to climb to safety.
Trash racks can serve these purposes without interfering significantly with the hydraulic capacity of the outlet (or inlet in the case of conveyance structures) (ASCE, 1985; Allred-Coonrod, 1991). The location and size of the trash rack depends on a number of factors, including head losses through the rack, structural convenience, safety and size of outlet
Course/fine trashrack shall be designed for a design discharge of 1.27 m3/s at El. 2134.65 m and earth quake forces.
The estimated trash rack bar size for the course trashrack shall be 20 mm and place apart at 40 mm. The fine trashrack bar size shall be 20 mm.
The rack bars will be manufactured from ASTM A36 material and epoxy painted against corrosion protection.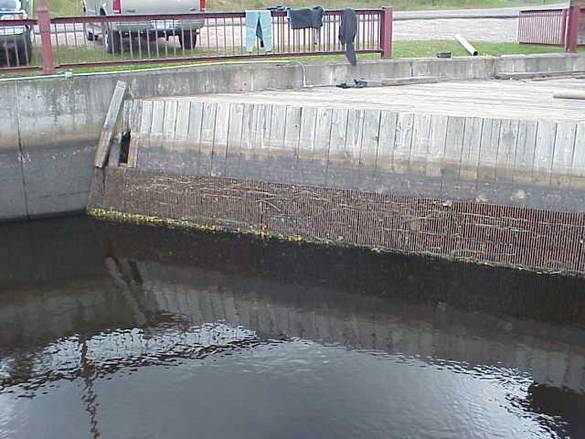 Stoplogs
Stoplogs are a hydraulic engineering control element that are used in floodgates to adjust the water level and/or flow rate in a river, canal, or reservoir. Stoplogs are sometimes confused with flashboard, as both elements are used in bulkhead or crest gates. Stoplogs are typically long rectangular timber beams or boards that are placed on top of each other and dropped into premade slots inside a weir, gate, or channel
Stoplogs are frequently used to temporarily block flow through a spillway or canal during routine maintenance. At other times stoplogs can be used over longer periods of times, such as when a field is flooded and stoplogs are being used in smaller gates in order to control the depth of water in fields. The logs may be left in and adjusted during the entire time that the field is submerged.
The stoplogs shall be designed and manufactured according relevant DIN or ASTM standards considering the dead, hydro static, dynamic, friction, wind and seismic loads.
Gates
The stoplogs slots and sill will be of stainless steel.
The gates shall be designed and manufactured according to relevant DIN or ASTM standards considering the dead, hydrostatic, dynamic, friction, wind and seismic loads.
The gates shall have a minimum 3/8" skin-plate and designed with 2 mm wear/corrosion allowance.
The gates wheels or rollers shall be spaced along the side of the gate disc to support equal portion of the hydrostatic load. The wheels shall be turned treads and bored for proper bearing size. The wheel bearing shall be permanently lubricated and designed for continuous submergence service.
Wire rope hoisting system is suggested for all the gates, however, use of hydraulic system shall also be studied during the detail design stage. The gates shall further be provided with lugs for emergency lifting, and maintenance locks in open position.
Prefabricated structural steel slots will be provided.
The bottom shall consist of a wide flange with stainless steel sealing surface.
'J' seals shall be mounted across the bottom and up both sides of the radial gate. Stainless steel plates shall be embedded across the invert and up both sides of the gate to provide a tight sealing in the closed position of the gate.
Skin plate, stainless steel seal & other components of the gate shall be fabricated from relevant ASTM Standards such as ASTM A36, A242, ASTM A167 etc.
Gates maintenance shall be performed in the dry season after first setting the stoplogs in front.